Fast vs slow – what pace should I set to write my book?
Knowing why you want to write a book gives you one of the best indicators of the pace you should set.
Knowing when you want to release a published book will provide you with a framework for how you will need to set your schedule. Depending on how you like to work, that could be slow paces daily or a mad dash at the end.
You know what works for you, and leverage that strength to write your book.
Another factor here is to consider supporting the areas where you have a lack of expertise by bringing in someone else to help you meet your deadline and to have your book published. Consider people who assist you as pacesetters, tell them that you want to be held accountable. You want to achieve your deadline. Let others support you in achieving this.
You are much more likely to succeed when you find a good community of people to cheer you on.
The people that you surround yourself with, may or may not, have expertise in publishing. However, it is likely if you set yourself up with people of a growth mindset (test your mindset – Fixed or Growth – via Carol Dwecks's website), even if they do not have the particular expertise that you need, they are likely to know someone who can assist.
Seek out assistance and ask your network who may be able to assist you – think how you would do the same for others in your network and that cheering each other on is one of the best ways for all of us to grow.
Regardless of your pace, fast or slow, the network of people that you find to support you will be one of the best determining factors of your probability of success.
Find the right people to support you. Then there is a much higher likelihood that you will write your book.
My belief in this statement was supported when I had the opportunity to work with The Happy Family Lawyer – Clarissa Rayward during her presentation at the Powerhouse this month.
Below is the visual summary that I drew live during her presentation. You may see on the page her comment that "who is in your village is key". Find the right people to make you fly!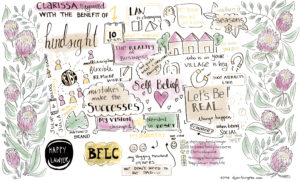 Start seeking out the best people to support you in your publishing journey.
Find that village, that support network or that group of friends that will assist you to soar higher than you ever have before!
Like to revisit posts for this topic?
Here they are:
If you would like to contact me, you can do so by sending me an email dyan@dyanburgess.com
In the interim, if you are interested in watching a 25 minute video about Creating Your Book in Less than 60 Minutes, please find out more details here.