What will you be famous for?
Ultimate Business Propeller Workshop –Ÿ Lauren Clemett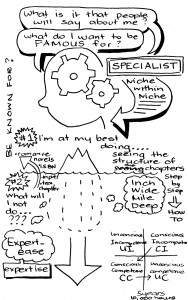 Lauren urges us to ask ourselves a few questions:
what do I want to be paid for?
what is it that people will say about me?
what do I want to be known for?
what am I at my best doing?
You need to become that specialist; use your experience to become a niche within a niche.
Visual Note by Dyan Burgess (c) 2015