Voice is a choice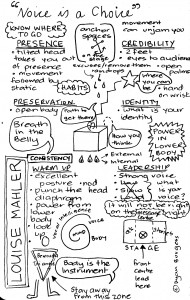 Dr Louise Mahler
National Speaker's Association of Australia,Ÿ Canberra, 2015
Understanding that your 'voice is a choice' allows you to use your body as an instrument.
By combining your voice, mind and body, you can find your vocal intelligence.
And by making conscious decisions about how you sit and stand, you can develop positive habits for producing your best voice.
Visual Note by Dyan Burgess (c) 2015